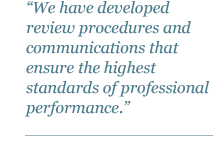 Budwitz & Meyerjack, P.C., established in 1971, is a large Connecticut-based CPA Firm with offices in Cheshire, CT and Farmington, CT. The Firm is large enough to handle engagements of enterprises with annual revenue in excess of $100 million, yet small enough to also cater to smaller businesses and individual clients who expect personalized attention from partners and staff. Client service is the cornerstone of our practice.
The single most important factor in our Firm's success over the past three-plus decades has been our uncompromising commitment to the highest standards of quality and professionalism. Providing quality service to our clients is our primary objective. We have developed review procedures and communications that ensure the highest standards of professional performance.
Budwitz & Meyerjack, P.C. is a proud member of the Division for Firms of the American Institute of Certified Public Accountants. In fact, we are one of the few firms our size, in Connecticut or anywhere, that has a membership in the Securities and Exchange Commission Practice Section in the AICPA's Division for Firms. This allows us to represent publicly held companies. Our membership in this section puts us in the highest levels of professional practice.
All firms of certified public accountants are required to undergo "Peer Reviews" of their accounting and auditing practices every three years. The Peer Review process is a monitoring process that ensures CPA firms meet recognized standards in the quality and performance of their work.